Quick Things to do Post Launching Drupal Site
09 Sep 2013 - 12:03:42 pm
 Here you go! You have gone so far in your motive and are few steps left from your desideratum. You will soon enjoy sowing the seeds of your prosperity on the virtual land and Drupal will be playing a vital role in converting your efforts in money. But before reaching on this position, you need to arm up your Drupal with multidimensional attributes. It is indeed necessary to make all needful changes in the website outwardly as well as inwardly. The changes, focused to revenue generation, will get you close to your real prospects. So, just add the necessary things in your website before visitors start coming at your virtual store.
Social Media Interaction
-It Makes You Popular!
Please do not take this as social media integration because you might have done that before launching your website. Here you need to do something different. You actually need to adorn your social media profiles with high quality images and artistically beautiful contents. You can take the example from the below mentioned picture.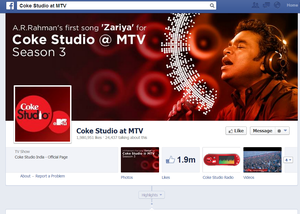 You can check the content rich stature of this page in sections like photos, radio, and video. It makes the user curious to know more about the brand. Therefore, your social media profile should carry well-crafted contents to bring the mare followers on your website.
Go Solid in Meeting with Google
-It May Unnerve You
Since the moment, Google has started refining the quality of contents and virtual marketing practices, people with unethical mindsets are losing the game. You must understand that Drupal gives you all the tools and facilities to execute user-oriented marketing campaigns. Hence, it is of no use to please Google & other search engines because they decisively follow the feedback of online visitors via their written or behavioral notions. So, you should try to communicate with your potential customers in best possible manners.
Exhibit Sincerity
-It Makes You Bankable
Yes! It is true that you should try to behave sincerely in everything that you do for sustaining your business. The sincerity is quite necessary in the initial days after launching of your website. Your customer will like this attribute in your website. Now, you might be thinking that sincerity is a kind of gem that a business should carry for lifetime. But, here the sincerity stands for the moderate marketing campaigns, mild interaction with customers, and concentrated efforts. The consistency in efforts helps you in building a trust between customers for your brand. It brings online visitors back on your website. So, you just need to be consistent and sincere in your approach.
Go Technically Solid
-It Makes You Accessible
Well, it is true that a website, especially made using Drupal, cannot travel fast and far without required technical attributes. Therefore, you should take the services of an eminent Drupal development company to create business-oriented features for your website. It will help you in adding all the requirement functionalities in your website as per your requirements. So, you just need to understand the key requirements of your website. In case, you do not find yourself suitable for this job then you can consider hiring an excellent Drupal programmer, who can assist you in this process. It will be a great way to get technically sound stature for your website.
Now, you are aware of all the things that you need to do right after launching your websites. Considerably, you will have to keep doing the above-mentioned things for about a year to earn a name for your website. It will be a right way to enter in virtual business domain.